​We have seen a huge amount cost-of-living media dominating our screens throughout 2022, highlighting the skyrocketing increases and driving people into a panic.
However, what we don't see enough of is how we can best support our employees and what areas we should be targeting.
The CIPD Living Cost Survey offers some insight into where consumers spend their money by outlining the areas that absorb household income. Regardless of annual income, it's clear that standard bills take up a huge portion of the budget. The Government energy support scheme is designed to support households and businesses with their rising energy bills, which further helps to support growth, protect jobs and unnecessary insolvencies.
Citizens Advice offer additional information in relation to available grants and benefits.
As we can see, energy isn't the only outgoing that is eating into our annual budgets. Transport costs rank the second highest, according to the survey, followed closely by food and non-alcoholic drinks.
​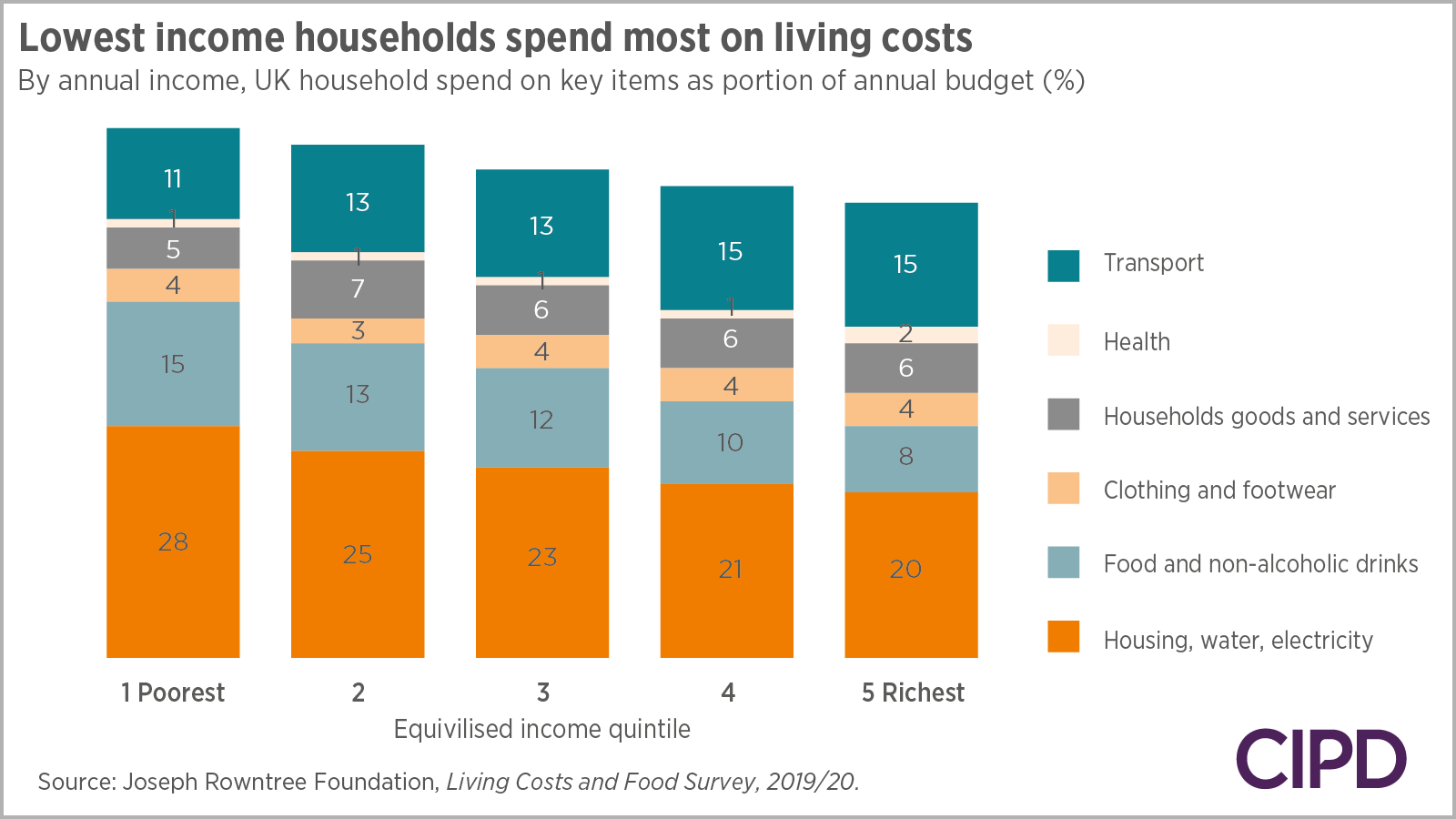 ​
​
McKinsey shared some interesting insight suggesting a sustained period of inflation, accelerated by a wage-price spiral which may further drive costs and impact businesses.
Additionally, further pressures could see a continuation of fuel and energy prices. This highlights the importance of acting now to develop longer term strategies with initiative, creativity, and inclusion at the forefront.

Inflation is equally as challenging for businesses, so it's vital for Senior Managers and HR Leaders to consider innovative ideas that are affordable, hold minimal risk and align with overall core values.
​
Top 10 initiatives to support staff during inflation:
​
Salary rises and inflation bonus'.

Employee Discount Schemes; tech purchases, gym memberships, discounts on retail.

Employee Assistance Programmes to offer support with counselling, legal advice, and financial security.

Salary Sacrifice Schemes: cycle to work, company cars, bus passes and health & dental care.

Communicate your benefits, listen to concerns, and offer support.

Work from home or hybrid working options.

Well-being benefits.

Financial coaching and planning.

Pension schemes and retirement plans.

Free food, snacks, and non-alcoholic drinks.
Bumping salaries and offering a bonus is always going to be well received, but it may not always be a feasible option. There are some great initiatives available which are more cost-effective and feed into the focus around employee well-being, as well as key practices highlighted within our previous blog: The Good Work Plan 2020: A Review of Modern Working Practices.